"You work for us!"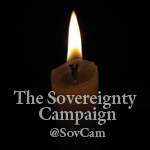 We evaluate electoral candidates by whether they honor the sovereignty of the American People and because of this, protect our national sovereignty, also the constitutional sovereignty of the states, the natural sovereignty of parents, the autonomy of the church, and the proper boundaries of any means of our People's self governance.
We do this because those are America's core principles under God, by which all our rights, responsibilities, and liberties come, and we believe in them.
We furnish voters critical information on candidates based on their records, also their commitments, especially in their answers to our surveys, in a planned & structured method.
SovCam 2012
We will present well researched and Sovereignty-evaluated information to our fellow Citizens for the General Election, on all the major U.S.  Senate candidates in all Senate campaigns. We will show the same for key House contests.
This information will be distributed in a variety of highly effective ways.
In doing this work, we will provide critically important, urgently needed criteria to voters, so they can make essentially informed decisions.
We will serve other patriotic organizations with this information, so they can become more effective in their own work, of renewing and restoring America according to is vital and authentic vision.
You can help, right now
Do you agree with us? If so, join our volunteer team by filling out the SovCam Activist Survey that you get via email, after filling out our form:
We are not going to demand money from activists. We are looking for patriots to at least take the time to tweet, or post critical info in forums and other social media, or send an email to your friends – maybe, distribute information to your neighbors, right where you live. Whatever you wish.
Ask any question, express any concern. We have an effective plan. At present, you may email us at SovCam@yahoo.com or comment below (please indicate, if you wish your comment kept private or anonymous). Follow with us at twitter.com/@SovCam.
Coordinator
Arlen Williams, 53, BA, a believer in Americans' acknowledgment of our Declaration and Constitution and their original vision and intent, has fulfilled roles in political organizing and campaign management, as well as research and writing of current American and world problems, and working in the the information technology field, throughout his adult life.
Arlen coordinates the publishing of Gulag Bound, a Webzine focusing upon American and global struggles to be free of tyranny of all kinds. A more complete bio is available, plus information on our organizational team, as we rapidly develop.
ArlenWilliams@yahoo.com – Twitter.com/@ArlenWms – Facebook.com/ArlenWilliams
Sovereignty is Liberty