By: Denise Simon | Founders Code
Dinesh D'Souza was sentenced for a felony count that was hardly as bad as what you are about to hear. He also paid a $30,000 fine.
Just this week, President Trump gave a speech in Jamestown on the 400th anniversary of the first meeting of elected legislators in America. What was hardly covered is his speech was interrupted by a Virginia legislator named Ibraheem Samirah.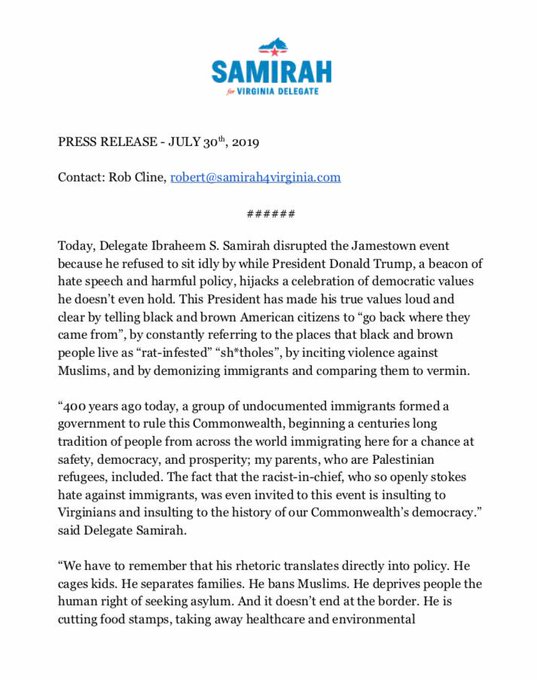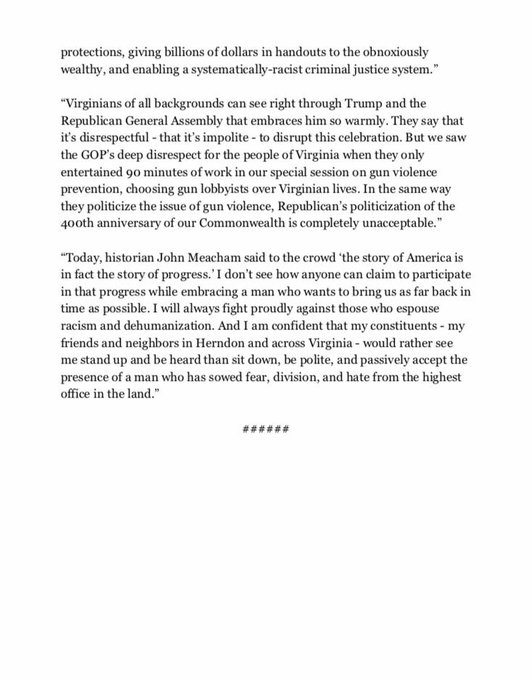 Democratic freshman representative Rashida Tlaib (Mich.) received a generous donation during the second quarter in the name of a man who died more than 10 years ago, a review of campaign and online records shows.
Tlaib's campaign committee, Rashida Tlaib for Congress, hauled in donations of at least $2,000 from dozens of individuals between April 1 and June 30. One of those contributions was from George S. Farah Sr., a Michigan businessman, real estate developer, and community leader who made his way from Palestine to the United States in the mid-1950s. Farah passed away on Feb. 1, 2009, from heart failure, according to a Michigan Live article published at the time of his death.
On June 22, Tlaib's campaign received a $2,500 donation in his name, Federal Election Commission filings show. A search of public records, which also state that he is deceased, provides an address identical to the one written on the contribution to Tlaib's campaign committee. Grand Blanc Township property records also show that the residence located at that address is registered in Farah's name along with that of his widow.
Tlaib is the sole federal politician to receive a donation in Farah's name for the 2020 election cycle. In the past, Rep. Dan Kildee (D., Mich.) has also received contributions from Farah following his passing. Kildee, who first ran for the House of Representatives during the 2012 election cycle, was given $1,400 in total contributions in Farah's name between 2011 and 2017. The two Democratic Michigan representatives are the only federal politicians who received money in Farah's name for the past 10 years.
Federal law prohibits making campaign contributions in the name of another individual.
"It is illegal to make a campaign contribution in the name of another person and a campaign must ensure all donor information is reported accurately," said Kendra Arnold, executive director of the Foundation for Accountability and Civic Trust. "The requirement of accurate disclosure of campaign contributors is important to inform voters of the source of campaign funds, prevent corruption, and ensure individuals are contributing within the legal limits."
Tlaib's campaign did not respond to a request for comment before publication. A spokesman for Rep. Kildee's campaign, however, did.
"Gisele Farah is the sole beneficiary of a trust in her late husband's name, George S. Farah Sr., who passed away in 2009," the Kildee campaign spokesman said. "Since his death, Gisele Farah, as the sole beneficiary in control of the trust, has contributed to the campaign with funds from her trust. Our campaign's records have been amended to clarify that the campaign contributions were from Gisele Farah and should be designated under her name."
Inquiries sent to West Second Street Associates, a real estate investment and development company founded by Farah and run by members of the Farah family, were not returned.
Donations in the names of deceased individuals have occurred in the past. Between Jan. 2009 and Aug. 2013, 32 contributions totaling $586,000 from people marked as "deceased" in campaign records made their way to political candidates and parties, according to a 2013 report from USA Today.
In some circumstances, individuals make political candidates and committees part of their estates. If, for example, a trust is set up before someone's death, that individual can leave specific instructions for where they would like the funds to go.
George S. Farah Sr. did not appear to give donations to any federal politicians prior to passing, based on a search of records.
UPDATE 2:40 P.M.: After publication, a spokesperson for the Rashida Tlaib campaign returned the following statement, strikingly similar to the comment received from the campaign of Rep. Kildee prior to publication:
"Gisele Farah is the sole beneficiary of a trust in her late husband's name, George S. Farah Sr., who as you noted passed away in 2009. Gisele Farah, as the sole beneficiary in control of the trust, contributed to our campaign with funds from her trust. We will amend our campaign records and filings to clarify that the campaign contribution was from Gisele Farah and should be designated under her name."