By: Denise Simon | Founders Code
During a question session in the senate of AG Bill Barr regarding the Mueller report, Kamala Harris asked if Barr personally reviewed all the underlined evidence. Kamala charges that Barr did not take his duties seriously and is unprofessional.
Okay, so how about these two cases for example and did Kamala herself look at all the underlying evidence or just go for an easy plea deal or allow the statute of limitations to run out or was it all a coverup tactic?
In 2016:
California's Attorney General, Kamala Harris, raised eyebrows in the law enforcement community when she allowed the statute of limitations to expire for prosecuting alleged crimes committed by the California Public Utilities Commission (CPUC) and top managers at Southern California Edison (SCE) involving the ratepayer-funded bailout of SCE's failed SONGS nuclear facility.
Get the full 18-page criminal affidavit here.
Just one month after the media widely reported her failure to prosecute activities that may implicate Governor Jerry Brown, Harris received a coveted endorsement from Brown in her election bid to replace United States Senator Barbara Boxer.
Critics believe Brown's endorsement of Harris weeks after her failure to prosecute may have been a quid-pro-quo for allowing the statute of limitations to expire on the suspected unlawful activities of Jerry Brown and his political appointees at the Public Utilities Commission.
Yesterday, Harris' failure to prosecute prompted congresswoman Loretta Sanchez to issue a blistering press release accusing Harris of political cronyism.
The Sanchez press release calls on the Federal Department of Justice to intervene by initiating an independent investigation.
It also accuses Harris of "Burying her head in the sand" along with the millions of pounds of high-level nuclear waste that are slated for a beachfront burial at San Onofre State Beach Park in June of 2017.
Why the case is important to Jerry Brown
Governor Brown's office has been implicated as a participant in the unlawful bailout of Southern California Edison at ratepayer expense.
According to a Public Records Act request by utility fraud investigators at the San Diego Law firm of Aguirre & Severson LLP, Jerry Brown's office either sent or received at least 65 emails to the CPUC's current president, Michael Picker. All of the emails involve details behind a secretly negotiated bailout of SONGS, which resulted in a deal that forced Southern California utility customers to pay an average of $1,600.00 each for the cost of the failed power plant.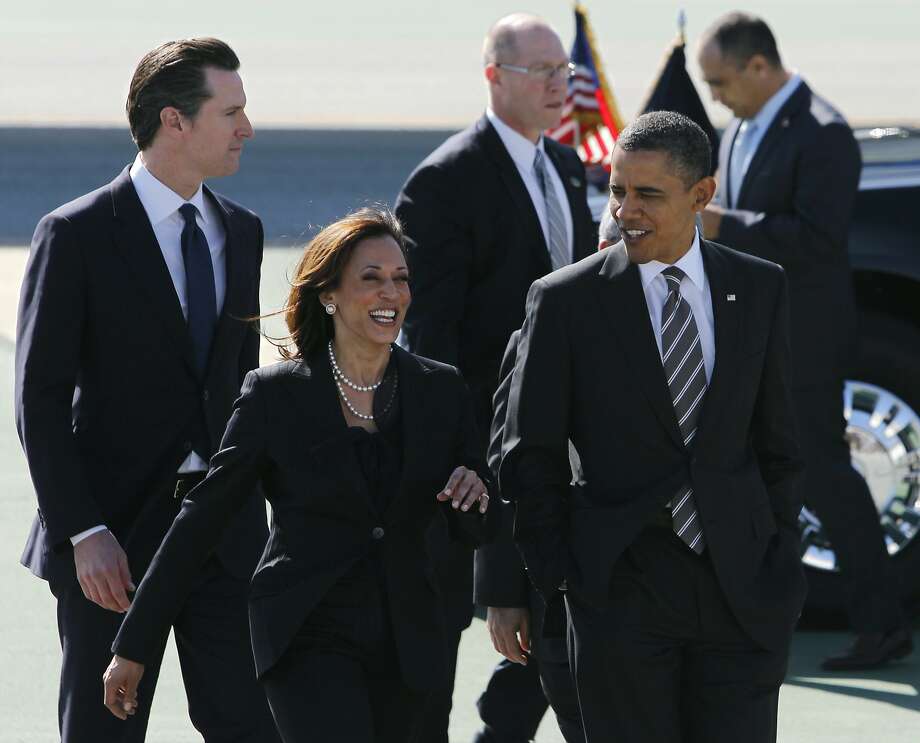 The next case involved the former Mayor of San Diego, Ed Filner. He resigned but not before Kamala helped him out in a big way.
At least 20 women with evidence and formal complaints against Mayor Filner came forward in 2013 on accusations of sexual misconduct and sexual harassment. While he should have faced at least 5 years in prison, Harris worked a plea deal with Filner to sentence him to 3 months of house arrest, 3 years probation and only a partial loss of his mayoral pension. Filner apologized in a video statement and declared he was seeking professional help for his behavior. Did Harris look at the underlying evidence of the 20 women herself?
Obviously, there was truly a there there as the City of San Diego had to pay $250,000 to settle just one sexual harassment lawsuit brought by Filner's former communications director, Irene McCormack. Great huh? The man does something like this and the city pays the freight on the case and not Filner?
Even bolder, Filner asked the city of San Diego to pay his legal bills, but at least the city rejected that.
Hey Kamala what is your response to all of this?
Oh, one more item. During judicial confirmation hearings in the Senate, Harris often displayed her disdain for religion, especially Catholicism. Oh, there is history to that by the way. In California, there were 6 charity hospitals operated by the Daughters of Charity. The Catholic Mission hospitals took in patients regardless of their ability to pay. Due to growing debt, the Daughters of Charity wanted to sell the operation to Prime Health Care as they promised to keep all 6 hospitals open for at least 5 years and would assume the pension costs and retire other debts. Enter the unions like SEIU and the closing of a system that helped out communities. A private equity firm out of New York took over. It's all about the Benjamins.