By: Lloyd Marcus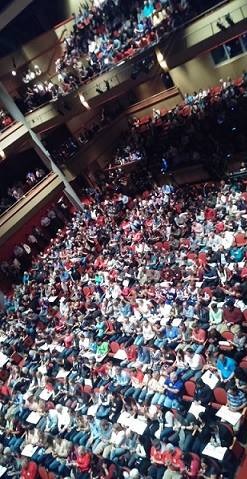 Our Conservative Campaign Committee team attended the Ted Cruz rally in Houston, Texas last night. The scripture, "…for such a time as this…" came to mind. God has prepared Ted Cruz for this dark time in our nation's history after 8 years of Obama. God has also prepared me and you to usher Cruz into the White House.
Some evangelicals have chosen a man who says he has never asked God for forgiveness over Cruz who has asked God's forgiveness for his sins. These evangelicals are, in essence, saying God cannot use a washed-in-the-blood-of-Christ Christian to save America.
Believers rejecting such a clear obvious superior choice is a sad testimony of the state of the modern church. If Jesus came to America today and ran for office, how many Christians would deem Him extreme, polarizing and un-electable?
I'll cut to the chase folks. Without Ted Cruz in the WH to nominate a constitutional conservative to the Supreme Court, our Bill of Rights is at extreme risk. Five liberals vs four conservatives on the court would have devastating consequences, changing America as we know it. As Ted Cruz has articulated, we are one liberal justice away from the court ordering abortion on demand, confiscating our guns and ending our religious liberty. This is real folks!
Mr Trump's fluid political positions have proven him untrustworthy to do the right thing regarding several issues; especially appointing a constitutional conservative to the Supreme Court. To all you folks angry at me, you know I speak the truth. To all my fellow Christians, you know in your spirit I am right.
Joseph de Maistre wrote, "Every nation gets the government it deserves."
If we pass on this extremely rare opportunity to put a Reagan conservative whom God has prepared for such a time as this into our White House, we will receive the government we deserve.
Please, please, please pull that lever for Ted Cruz, the last hope for America.
In His Love, Lloyd
Lloyd Marcus, The Unhyphenated American
Chairman: The Conservative Campaign Committee
LloydMarcus.com