Krugman and the Times Still Spinning Obama's Legacy – AIM Report 2015-12
Your Intel Brief (ad blocker off to see headlines)
Previous Example: Globe & Malevolence
THESIS
If global, collectivist, shadow imperialism advances...
We are Gulag Bound
But God's own truth getting told,
that's not happening.
Enjoy a tour at your leisure, of
America's prospects if the world's
ambitious powers get their way.
Arlen Williams, Publisher -
Twitter
(So gratefully, I'm a Christian, an American, and as such have ranged about freely in observation, intercession, political organizing, interviewing, and commenting, here and in other venues. If it matters to anyone, those include American Thinker, Breitbart, Renew America, and numerous video/audio .)
Lloyd Marcus, with Christ
"We must do everything in our power to reelect our remarkable president. This election is our last stand to save America as founded. America is counting on you."
– Last published words of Lloyd Marcus https://t.co/HseYAYzHxT

— Gulag Bound (@GulagBound) July 26, 2020
Use to promote The Bound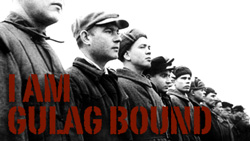 Selected Quotations
"The descent to Hell is easy and those who begin by worshiping power soon worship evil."
C.S. Lewis

"Silence in the face of evil is itself evil. God will not hold us guiltless. Not to speak is to speak; not to act is to act."
Dietrich Bonhoeffer "The rich rules over the poor,
And the borrower becomes the lender's slave."


Proverbs 22:7 NASB

"Indeed, in a free government almost all other rights would become worthless if the government possessed power over the private fortune of every citizen."

Chief Justice John Marshall

"'Don't I have the right to do what I want
with my own money?'"
Jesus Christ

, in a parable of a "capitalist," Mt. 20:15

---

There is only one direction to go, from liberty,

and the only freedom from subjugation is Sovereignty.
Racism & Race-baiting
Neither racism nor race-baiting is well tolerated by the Bound. Ethnic haters: visit here and learn better, or go your own sorry ways.
Bound to One's Own Statements
The purported facts, opinions, sentiments, and even the music, pictures, and links in Gulag Bound's entries, comments, headings, sidebars, footers, and whatever else is here do not escape the boundaries of the sole responsibility of their individual authors. Even the number of spaces between sentences -- pretty much anything sensed here by the sentient.

There is no escape.